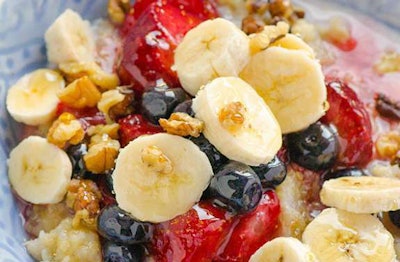 Quinoa may be an annoyingly trendy grain, but that doesn't mean it still can't be a suitable substitute for oatmeal when making a delicious, slow-cooker-friendly hot breakfast.
This recipe pairs the healthy grain with coconut milk (equally trendy!) and either maple syrup or honey for a good way to begin your trucking day. Add some milk and the topping of your choice — fruit, nuts, cinnamon, sugar, or all of these — and you're good to go.
This cooks on low for eight hours, so you can prepare it before you crawl into your bunk and it will greet you in them morning.
The only minor hiccup to this being a great on-the-road breakfast is that you need to rinse the quinoa. Do that before you leave home or be sure to carry a small strainer in your truck's kitchen.
Check out this and other recipes at ifoodreal.com.