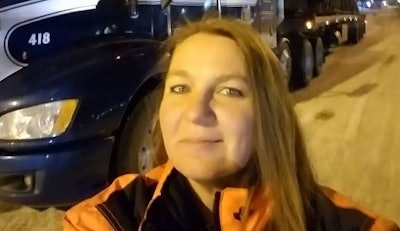 Bethany Ranchool grew up idolizing truck drivers, but she never thought she could be one because she was a girl. When she started to see women in trucking getting profiled on television, she realized her dream job was within reach.
"I realized if they can do it, why can't I?" Ranchool, from Eugene, Oregon, said.
Ranchool currently works for Leavitts Freight Service hauling flatbed. She waited to pursue trucking until her daughter was older, around 16, but the two still faced challenges during the transition. Ranchool acquired her CDL in early 2015 and during her first year her daughter, Khorey, stayed with family.
"She was older but it was hard saying goodbye to her for the time that it was going to take for me to transition which ended up being a little over a year," Ranchool said. "I didn't see her very much in that time but we talked a lot."
The transition took its toll on them both, Ranchool said. She was working for a different company at the time and was often away from home.
"I almost ended up leaving the profession until she was done with school, but it ended up working out so that I could come and work for a company that was closer to home, which is the company I'm with now," she said.
Ranchool was the first woman in her company's heavy haul fleet. She was initially worried about applying to a flatbed company because she thought being a woman in flatbed would be a no-go. Leavitts, however, was excited about the possibility of her being their first woman driver.
Initially flatbed was a challenge, but now she can't imagine doing anything else. It's tough but physically rewarding, she says.
"I love being outside. Even though it's pretty crazy with the weather, and even driving in the weather, I wouldn't change it for the world. I love my job," Ranchool said.
She compares flatbedding to having a gym membership that you get paid to use. She used to haul reefer and she didn't get out of the truck often. After driving all day, she would be mentally exhausted. Flatbedding gets her outside and helps her stay active.
"It's very rewarding that way. It also helps to have all these muscles I'm gaining," she said.
Ranchool says other women interested in flatbedding should know that it's not as difficult as it seems. Women may have to find easier ways to do certain things, but she says it's not as difficult once you get into it and get going. She does recommend women with children consider waiting until their kids are in college or have moved out of the house.
"I would say wait. Let them finish their schooling. Let them get into college or out on their own before jumping into it because it can be pretty mentally damaging, unfortunately. It's better just to raise your kids and do what you can until you can follow your dreams," Ranchool said.