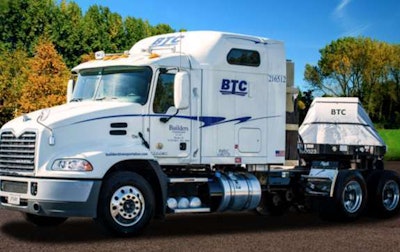 A family owned and operated flatbed carrier located in Memphis, Tennessee Thursday said it is raising pay for its drivers.
Builders Transportation Co., LLC, announced starting pay has been raised to 55¢ per mile for flatbed drivers with two years recent experience, and BTC's seniority program allows drivers to boost pay to 60¢ per mile.
"The earning potential at BTC is just one of the great reasons for professional drivers to join us," said BTC Director of Human Resources Jerry Gowen. "Not only are we paying up to 55¢ per mile starting pay – which is excellent — we have generous sign-on, performance and referral bonus programs."
A statement from the company said drivers at all experience levels can benefit from the raise, "from those with as little as three months' experience (a 2¢ per mile raise) to those with two years or more (a 5¢ per mile raise)."
For orientation, BTC pays $1,000 and first-week solo drivers get another $1,000 the second week. BTC provides drivers with meals, a rental car for in some locations, and single room accommodations options for orientation.
BTC operates some 350 trucks hauling coil steel, wire products, structural and sheet steel, aluminum products, building materials, cast iron and steel pipe primarily in the eastern two-thirds of the U.S.