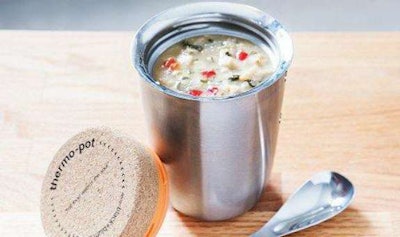 Few things in life are as disappointing as sitting down to a hot lunch to find out it's truly just a luke warm mid-day meal.
A good thermos does away with that disappointment, and the Thermo Pot excels at keeping your hot lunch — or dinner — hot.
Holding 17 oz., the stainless steel Thermo Pot keeps your soup, chili or other hot dish toasty for up to six hours. It comes with with an oversized spoon, which is magnetized to keep it attached to your Thermo Pot.
Not microwave or dishwasher safe, according to the maker.
Order online for $39.95.