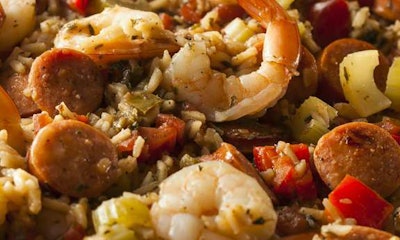 Yes, we know we're a day late for Mardi Gras, but we figure if a hangover can last after the celebration ends, there's nothing wrong with tucking into a staple of New Orleans cooking once the music fades.
This slow cooker recipe for jambalya includes shrimp, chicken and sausage, preferably Andouille if you can get ahold of it.
This recipe calls for cooking for six to eight hours on low or three to four on high. So, you can set it up to fit your driving schedule. Note that you add the shrimp in the last 20 minutes and the rice when there's 10 minutes left to go.
When it's done, fill a bowl, grab a baguette and Laissez les bon temps rouler! (Let the good times roll, as they say on Bourbon Street).
Grab the recipe and list of ingredients here.
Here's a little music to set the mood.