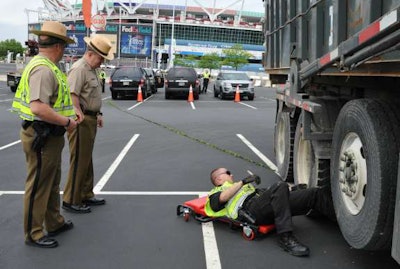 One major travel center company can help you be prepared for next week's annual inspection blitz.
Pilot Flying J offers free mid-trip visual inspections, a value of $50, through its Pilot Flying J Truck Care program through June 7 to help drivers prepare for the Commercial Vehicle Safety Alliance's International Roadcheck event June 5-7.
Mid-trip inspections focus on checking the tires and brakes of trucks, and also include the inspection of windshields, exhaust, lights and more. The three most common failed items are tires, brakes and lights. Performing proper inspections on each of these will help reduce the chances of receiving a violation.
PFJ offers the following tips for drivers to prepare for the 72-hour inspection blitz:
Buckle up.
Make sure your documents are in order. Drivers are required to have a CDL, any endorsements if applicable, medical card, and ELD and more.
Make sure tires, wheels, rims and hubs are checked for defects, including cuts, cracks and leaks.
Check your brakes to make sure there are no missing, non-functioning, loose, contaminated or cracked parts on the brake system, and make sure all brake systems are functioning properly.
Inspect all lights for proper color, operation, mounting and visibility.
Roadcheck inspectors this year will be focusing on hours-related violations.