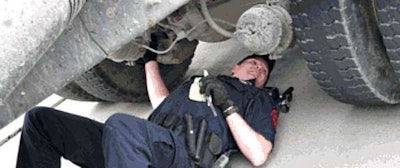 The Commercial Vehicle Safety Alliance's annual International Roadcheck, a three-day enforcement blitz of trucks and buses across North America, is June 5-7, and this year's focus will be on hours-of-service compliance.
"The top reason drivers were placed out of service during 2017 International Roadcheck was for hours-of-service violations," said CVSA President Capt. Christopher Turner of the Kansas Highway Patrol. "Although the electronic logging device rule that went into effect on Dec. 18 does not change any of the underlying hours-of-service rules or exceptions, the ELD mandate placed a spotlight on hours-of-service compliance."
However, inspectors will perform full Level I inspections on most rigs checked during the inspection blitz. Level I inspections are the most thorough, including examination of both driver compliance and vehicle-related violations.
In last year's Roadcheck, 15,000 out-of-service orders were issued. Of those, 12,000 were for vehicle-related violations and 3,000 were for driver-related violations.