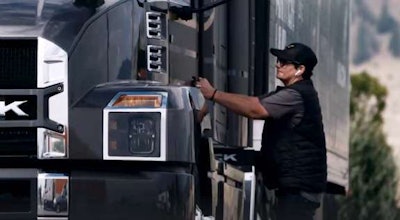 Mack Trucks has created an eight-episode series that will begin appearing on a leading streaming service later this month. RoadLife TV debuts on Amazon Prime June 19, and tells a variety of stories about working people using Mack trucks, including two women drivers.
"Every day, dedicated men and women make our communities better places to live, whether it's collecting trash, delivering product or building the roads and bridges that connect us all," said John Walsh, Mack vice president of marketing. "Their stories matter. They're the manifestation of what Mack has always stood for – no excuses, never giving up, keeping your word."
The series visits 32 cities over 136 days, traveling more than 32,000 miles to film life on the road. Included are stories about NASCAR, including legendary driver and owner Richard Petty and rising star Bubba Wallace; Oakland Raiders defensive end Khalil Mack; country music artists Steve Moakler and the Zac Brown Band; a pair of female trucking pioneers; and an 8-year-old recycling.
"Trucking, like so many industries, is full of highly committed people," Walsh said. "RoadLife tips a cap to all of the hard work they do, day in and day out."