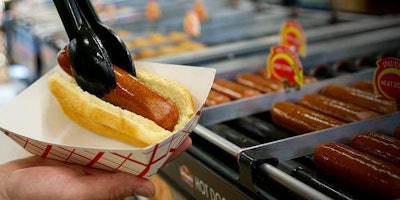 Two national truck stop chains will celebrate National Hot Dog Day Wednesday by giving customers free hot dogs.
Customers at Love's Travel Stops can access the barcode for their free hot dog or roller grill item on the company's social media channels from 12:01 a.m. to 11:59 p.m. Wednesday, July 18. Customers can redeem one coupon per person per transaction at participating locations in 41 states.
"We take great pride in offering a variety of top-quality roller grill products for Customers on the go," said Mark Romig, director of merchandise for Love's. "Giving out free items on National Hot Dog Day is a great way for us to thank our loyal Customers and encourage others to try something new."
Pilot Flying J is also offering customers free hot dogs Wednesday.
Professional drivers can open (or download) the myPilot app that day to find an offer for a free hot dog or roller grill item.
According to a statement from the company, in 2017 alone, Pilot Flying J sold nearly 10 million hot dogs in the U.S. — that's 150 times the height of Mount Everest. According to recent data some states really love their hot dogs. They are a top-selling item at Pilot Flying J stores in six states: Connecticut, New Jersey, New York, North Carolina, Maryland and West Virginia.