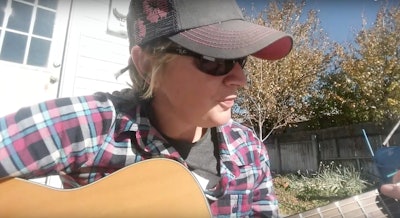 Mandi Jo Pinheiro, an owner-operator from Twin Falls, Idaho, was named the 2018 Overdrive/Red Eye Radio Trucker Talent Search winner at the Great American Trucking Show in Dallas last week after she performed her original trucking-inspired song "Heartbeat" live.
Pinheiro was inspired to write the song after she asked her fellow drivers about their favorite trucking routes and why they were special.
"I got an amazing list, learned a lot of geography and put it into a song," Pinheiro said.
Her winning performance earned her $1,000 and a recording session courtesy of the AxleOutPro company.
Pinheiro has been trucking for two years alongside her husband and team driving partner, Bill. The two haul a step deck with a 2005 Peterbilt 379 and got their own authority in 2017.
Before trucking, Pinheiro worked for a medical courier company but she always dreamed about driving a truck. She'd always loved trucks and she knew one day she wanted to drive them herself.
"One thing I've learned is that you can't keep calling a dream a dream. If you want to accomplish it, eventually you're going to have to call it a goal and set a date and make a plan," Pinheiro said. "So eventually I did do that."
She was always drawn to trucks because of how cool she thought they looked.
"The thing that makes them cool, I think, is that while they're naturally cool-looking, all these little pieces and parts that are part of the truck that make it go and make it run and do all the functions — the mirrors, the air cleaner, everything — everything that it has on the truck is part of its functions. It's cool that all those parts come together and make such a cool-looking object," Pinheiro said.
Pinheiro has been singing her entire life. Her mother bought her a steel string guitar in her mid-twenties and her father, a guitarist and musician, taught her to play. When it comes to her music, Pinheiro doesn't think about labels.
"I've never really thought about the genre. I've always felt the words that I write are better than my voice and my voice is better than how well I can play the guitar," Pinheiro said about her music.
She's been likened to folk singers before, but she also likes to sing country songs and play Jimmy Buffett tunes. She also enjoys a lot of 60s and 70s music.
"I don't have any kind of label for the type of music that I sing," Pinheiro said.