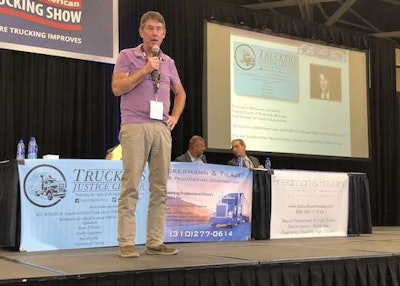 Real Women In Trucking (RWIT) hosted a panel of attorneys during the Great American Trucking Show last week, with the bulk of the conversation centering around drivers' rights and sexual harassment.
"A lot of drivers do not know their rights. They don't know what their rights are with sexual harassment, how to report it the right way, or even how to find a lawyer," said Desiree Wood, RWIT's founder, and president.
The panel was made up of four attorneys, including Paul Taylor of the Truckers Justice Center, Craig Ackermann of Ackerman & Tilajef, attorney and Ackermann's associate Aashish Dasai, and Joshua Friedman of Friedman and Houlding.
These are some of the questions truckers asked during the panel:
Q: How do you preserve evidence?
A: "You've got an iPhone. Use it. You can surreptitiously use your iPhone to record voice. You can use it to record video. You can also have a conversation with somebody who's done something bad to you without them knowing the fact that they're being recorded. Say hey, you know, I really found what you did offensive. They may apologize to you for that or they may say that's too bad, I did it, so you've got your evidence there," Friedman said.
Friedman added that it's important to speak to an attorney when you realize you're becoming a victim of sexual harassment so they can provide legal advice on preservation of evidence and advice on how to report it without being retaliated against.
Q: I went through an in-house trucking school but didn't complete the time period for debt forgiveness. Now I'm in collections. Do I have any rights?
A: "This is actually a growing area that we're starting to see some cases in. A lot of people probably know that a lot of trucking companies offer in-house trucking schools and the way it works is if you work for a company for X months – 10 months, 12 months, 18 months – it's free, but if you leave or are forced to leave, or fired, before that, then there's a certain fee that they charge, which is usually a pretty high amount. $6,000, $8,000 bucks, something like that, and then there's also very high interest rates," Ackermann answered.
He continued: "There have been hundreds of cases brought in the last couple of years arguing that these clauses are illegal penalty clauses. Under the law, you're not allowed to charge usurious rates of interest. You're not allowed to have a penalty that's disproportionate to the actual amount of the cost incurred by the company. A lot of these companies, their out of pocket cost to put someone through school is maybe $1,500 or $2,000, for them to have a $6,000 charge that's automatic if the person got a workers comp injury or for whatever reason couldn't complete the 18 months, there are some remedies there."
Ackermann added that he expects to see many more of these cases in years to come.
"I anticipate there will be more and more cases brought like that in more and more states over time," Ackermann said.
Q: I've leased onto a big company and they get a discount, or a rebate, on volume of fuel. Do they have to pass that on to the owner-operator or not?
A: "I believe so. You have a lease that says you're responsible for the cost of fuel and other things, obviously," Taylor said. "The DOT's leasing regulations state that if you're responsible for fuel, they can have a provision in the lease that takes that out of the settlement. The fact is though if they're getting say a 2 cent/gallon rebate based on a fleet volume, then if that lease doesn't say they get to retain that, and they never do as far as I've seen, then you're responsible for cost of fuel and that they can take cost of fuel out, I believe owner-operators are entitled to a piece of that on a prorated basis if the company is receiving those refunds from Petro or Flying J or Love's or whoever they're receiving them from."
The full video of the panel, including the Q&A portion toward the end, can be found below.