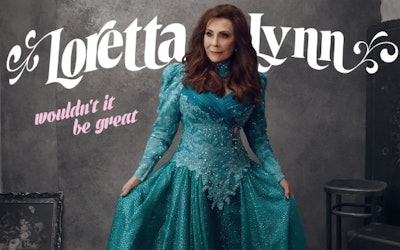 Loretta Lynn's new album Wouldn't It Be Great, is produced by her daughter Patsy Lynn Russell and John Carter Cash (son of Johnny Cash and June Carter Cash), is, and NPR's Jewly Hight called it, "a showcase of her songwriting across eras, modes, and moods, as well as the shrewd evolution of her expression."
And, it's a welcome arrival Friday for fans of one of country music's best-loved divas, who wrote or co-wrote every song.
Much of what's on the 13-cut album ought to be familiar to Lynn's fans, even the casual ones. The title track was first released in the 1980s and gets a fresh take from the 86-year-old singer on this, her 41st studio album. Wouldn't It Be Great also includes the song most associated with Lynn, Coal Miner's Daughter, which debuted in 1970. The album, which was delayed almost a year because Lynn had a stroke, also contains her first big hit, "Don't Come Home a-Drinkin'.
The full track list includes:
1. "Wouldn't It Be Great"
2. "Ruby's Stool"
3. "I'm Dying for Someone to Live For"
4. "Another Bridge to Burn"
5. "Ain't No Time to Go"
6. "God Makes No Mistakes"
7. "These Ole Blues"
8. "My Angel Mother"
9. "Don't Come Home a-Drinkin'"
10. "The Big Man"
11. "Lulie Vars"
12. "Darkest Day"
13. "Cole Miner's Daughter"