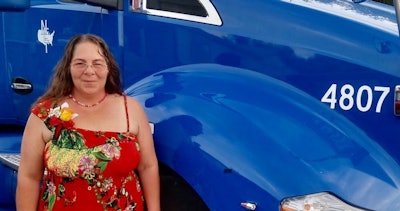 National Carriers, Inc. driver Angel Knopp dedicates time each year to participate in the annual Special Olympics convoy in, which takes places in various states.
"We as truckers mingle with the kids. We get into games with the kids, we sit down and eat with them, and we have pen pals. It's heartwarming," said Knopp, who participates in the Nebraska leg of the convoy.
Knopp loves seeing the smiles on the kids' faces each year and letting them sit inside her truck and ride with her during the fundraising convoy. The kids also get to see what it's like to be a truck driver.
"They're a delight. They're a joy, and it's awesome just to see them smile even if it is for a day of fun one time a year," Knopp said.
Knopp says volunteering with the Special Olympics convoy is rewarding because it's an opportunity to give back to the community and directly support the Special Olympics athletes. She encourages other truck drivers to look into volunteering with the Special Olympics convoys near them.
"It's a blast to be able to give back to the community as well as it's a blast to see smiles on a lot of the kids' faces," Knopp said.
Knopp, who got her CDL six years ago, was named one of National Carriers' Drivers of the Month in June alongside her driving partner and fiance, Jody Wilcox. Knopp is a fifth-generation truck driver and knew she always wanted to become a driver, but she chose to raise her 11 kids first.
"I wanted to be a truck driver ever since I was a little girl but I chose to be a mother first. All my kids are grown up and I'm still young enough to get into it and enjoy it," Knopp said.
Her children live throughout the country, so she uses her hometime to visit them in their various locales.
"My children are scattered so when we take home time, we try to be equal on all the kids and give a little bit of time with each of them. That's home," Knopp said.
While the trucking lifestyle does require sacrificing time with family, you're giving back to your country at the same time, she says. For women interested in becoming truck drivers, Knopp recommends they exercise an abundance of caution whenever they're unsure about something.
"If you're ever in doubt — backing or turning or anything like that — stop. Put on your brakes. Get out and look. Assess your situation. Don't ever let your guard down. Be aware of your surroundings," Knopp said.