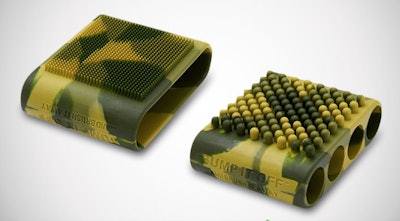 At home or on the road, dirt happens.
Because of that, it makes sense to have the tools to make things clean again.
Bump It Off is a reusable silicone sleeve that fits on your hand so you can concentrate scrubbing power. It has gentle silicone bristles on one side and smooth bumps on the other to help you clean just about anything.
For example:
Clothing — Use wet with water, laundry liquid or spot remover to loosen and lift stains, or use dry to remove lint and pet fur.
Beauty — Cleans make-up brushes. Massages, exfoliates and cleans your body in the shower or bath.
Kitchen — Safely scrub irregular surfaces, like colanders, cheese graters and slotted spoons without scratching, or use it to gently brush away dirt and residue from fruits and veggies.
Pet — Groom pets wet or dry and lift fur off upholstered furniture and fabrics like magic!
Available in blue, green, orange, purple, pink and camo.