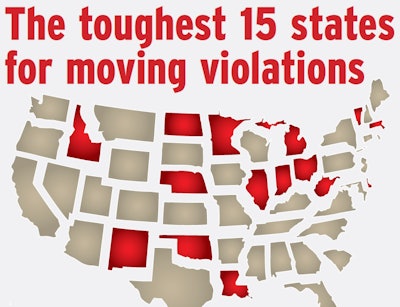 These 15 state truck enforcement programs in 2017 encoded the largest percentages of moving violations, measured as a share of all of each state's issued violations, the nation over.
From top to bottom, the states that show the heaviest focus on traffic enforcement, as evidenced by data from inspection reports, are:
Delaware – 25.5%
Indiana – 23.1%
Oklahoma – 14.7%
Louisiana – 14.2%
West Virginia – 14.1%
North Dakota – 13.8%
Illinois – 13.1%
Idaho – 12.3%
Vermont – 11.3%
Michigan – 11.1%
Nebraska – 10.9%
Massachusetts – 10.3%
New Mexico – 10.2%
Minnesota – 9.8%
Ohio – 9.8%
As in evident in the map at the top, there's some of Midwest regional proclivity for an outsize focus on traffic enforcement.
In Minnesota, it's on the rise. That state's moving violations as a percentage of all issued violations nearly doubled between 2014 and 2016, before dropping a hair in 2017. The state's 9.8 percent measure, still, is almost double the national average for moving violations marked on inspection reports, which make up just 5 percent of violations nationally. However, Minnesota is typical in its region and one of seven Midwest states in the top 15.