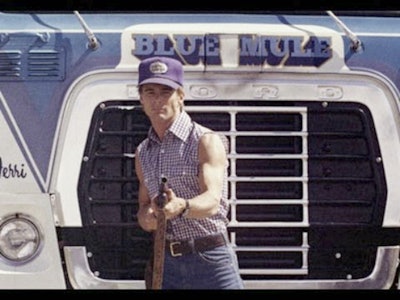 Jan Michael Vincent, star of the 1975 trucker film White Line Fever died recently. He was 74.
Vincent appeared as Carol Jo Hummer, a Vietnam veteran who is a partner in a trucking business with his father. Hummer goes on his own after his father's death, taking a loan to buy a used 1974 974 Ford WT9000 cabover with a Cummins turbo diesel engine that becomes known as the Blue Mule.
And, it's not long before Carroll Jo is battling the bad guys and winds up crashing the Blue Mule through a two-story sign in front of a corrupt business causing trouble for truckers. It's one of the iconic scenes among all trucking movies.
Vincent, who was born in Denver, got his show business start in the TV show, The Hardy Boys in 1967. Vincent would go on to appear in numerous television programs. He would later appear as Stringfellow Hawke in the CBS action show Airwolf. Vincent retired from acting in 2009.
Cause of death was listed as cardiac arrest.