Truckers who are customers of Pilot Flying J travel centers will notice the company's mobile app has a new look and new features.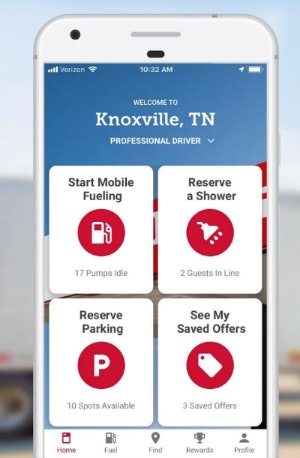 As announced earlier, Pilot Flying J this week released the updated version of the app that now allows users to select their profile as a professional driver, RVer or auto traveler. Once chosen, the profile shows frequently-used options by those profiles.
The truck drivers now can have quick access to begin mobile fueling, reserve a shower, reserve parking and see offers. The selections on the home screen are also tailored based on the driver's location. The updated app also allows truckers to the ability to call Pilot Flying J Truck Care at the push of a button.
"By focusing on the moments that matter most to our guests, we designed our new mobile app to meet the needs of the driver, whoever and wherever they are on their journey," said Mike Rodgers, senior vice president and chief strategy and information officer at Pilot Flying J. "We know drivers are always looking for convenient and reliable platforms that make their lives easier while on the road. Delivering an intelligent interface with expanded capabilities, our new app allows us to personalize, simplify and improve the guest experience while navigating the highways."
The app can be downloaded for Android smartphones and for iOS phones as well.
To celebrate the relaunch of the app, PFJ is offering free drink deals daily through the end of April, which are redeemable in the app.
Headquartered in Knoxville, Tennessee, PFJ has more than 750 retail locations in 44 states.