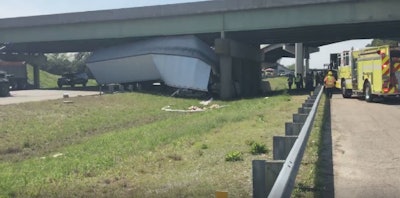 One truck driver is dead and another is counting himself as "the luckiest man" after two tractor-trailers collided on Interstate 64 at the Interstate 295 interchange near Richmond, Virginia Wednesday afternoon, April 17.
WWBT-TV reports Virginia State Police said the still-unidentified driver who died in the crash was traveling eastbound in the right lane and then changed to the center lane. To avoid hitting that vehicle, police said the driver locked his breaks causing the trailer to jackknife. The cab hit an overpass bridge and the trailer struck a truck driven by Burkhon Yusubov.
"I'm the luckiest man right now," Yusubov said.
The collision remains under investigation.