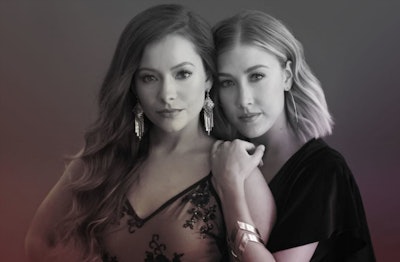 Four years after releasing their debut album and having it climb to number two on the country charts, Maddie (Marlow) and Tae (Dye) are back with an EP that arrives Friday.
One Heart To Another has five songs and is expected to whet the appetites of fans for a full album later this year.
The duo made a huge splash with Start Here in 2015. The album contained "Girl In a Country Song," "Shut Up and Fish," and "Sierra," establishing the young singer-songwriters, and saw them touring with the likes of Dierks Bentley, Brad Paisley and Carrie Underwood.
But before a second album could be released, their label folded. That led the four-year hiatus about to end Friday.
Talking to the Associated Press about the new EP, Dye said, "What do we want this next record, this next phase of us to look like? And are we going to be scared and shy away from things that we've never talked about or should we just go for it? And we went for it."
Die From A Broken Heart is one a breakout single from the new EP.
The full tracklist includes:
1. "Friends Don't" (Maddie Marlow, Taylor Dye, Jon Nite, Justin Ebach)
2. "Die From A Broken Heart" (Maddie Marlow, Taylor Dye, Jonathan Singleton, Deric Ruttan)
3. "Tourist In This Town" (Maddie Marlow, Taylor Dye, Barry Dean, Jimmy Robbins)
4. "One Heart To Another" (Maddie Marlow, Taylor Dye, Jonathan Singleton, Deric Ruttan)
5. "New Dog Old Tricks" (Laura Veltz, Jesse Frasure, Emily Weisband)