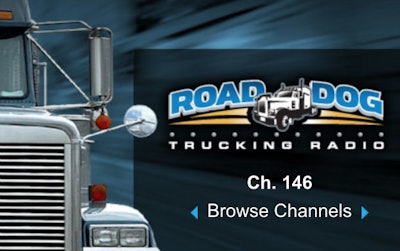 There was a time not long ago when listening to the radio as you drove cross country meant hopscotching from one local channel to the next as one faded out and another faded in. Drivers usually wound up listening to a crazy salad of local news, sports, weather, music, and talk programs.
Everything changed Sept. 25, 2001 with the arrival of the first broadcast of radio by satellite. Radio listening has not been the same since. Today, some 100 million people are reached by SiriusXM Satellite Radio, which delivers music, live sports, news, talk, and other programming, including Road Dog Trucking, Dave Nemo's talk show for truck drivers.
Tuning into that wealth of programming is easy with two radios from the broadcaster itself, the SiriusXM Onyx EZR and the SiriusXM Onyx Plus. Both are This easy to install and deliver all of SiriusXM's programming from Howard Stern to talk to music tailored to your particular tastes and moods.
The EZR features an easy-to-read, large high-resolution display screen that lets you see the artist or show name, song or program title, and content or channel information. You can store up to 10 of your favorite channels and curate your own music channel that's a blend of channels you prefer with the TuneMix feature.
The SiriusXM Onyx Plus radio gives you the luxury or tailoring your listening to your specific tastes, no matter how diverse. You can create your own music channel by blending several favorite channels with TuneMix.
Another feature of the Onyx Plus is TuneStart. If you happen to come into the middle of your favorite song, click TuneStart and you hear that special bit of music from the beginning.
The Onyx Plus also lets you pause, rewind, and replay on your favorite channels for up to 30 minutes. Try doing that with the push buttons on your truck's radio.
It also delivers game and score alerts and a sports news ticker for the hardcore fan.
Over-the-road drivers need to have important information as they drive. The Onyx Plus delivers local traffic and weather for your current location with one touch.
You can also store up to 20 of your favorite channels and then access them with one touch.
The two receivers mount easily on your truck's dash. Plus, with optional kits you can take them out of your truck and listen in your home or outdoors.
Both are available at travel centers and online.