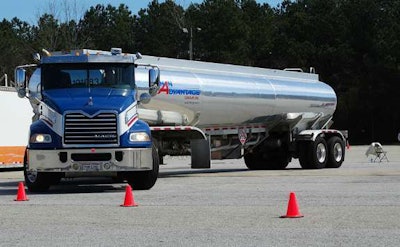 State trucking championships are scattered throughout the calendar in May, with a total of 19 states having their annual competitions during the upcoming month.
The state-level championships bring together each state's top drivers to compete in several classes. Class winners graduate on to the national competition, which will be held later in the year, Aug. 14-17, in Pittsburgh, Pennsylvania.
The American Truck Historical Society will meet for its national convention at the end of the month. The group will gather in Reno, Nevada, May 31 – June 2.
The organization also has various chapter shows in May.
Here's what's happening in May:
May 3-4:

Antique Truck and Tractor Show at Ratcliffe Transportation Museum in Pulaski, Virginia

May 3-4: Idaho Truck Driving Championship in Meridian
May 3-4: South Carolina Truck Driving Championship in Columbia
May 3-4:

Midwest Pride in Your Ride Truck & Tractor Show at Tri-State Raceway in Earlville, Iowa

May 4:

Super Duty Truck Show at Super Duty Truck Parts in Newark, Ohio

May 4-5:

Mason Dixon Show at Gladhill Tractor Mart in Frederick, Maryland

May 5:

ATHS So Cal Chapter Antique Truck Show and Swap Meet at Orange Empire Railway Museum in Perris, California

May 5:

Harrison Career Center FFA Tractor, Truck, Engine & Car Show at Harrison County Fairgrounds in Cadiz, Ohio

May 5:

ATHS Pine Tree Chapter Spring Stretch at The Bickford Collection in Yarmouth, Maine

May 5-8:

Kenly 95 East Coast Truckers Jamboree in Kenly, North Carolina

May 9-11: North Carolina Truck Driving Championship in Raleigh
May 10-11: Georgia Truck Driving Championship in Buford
May 10-11: Oklahoma Truck Driving Championship in Oklahoma City
May 11: New Mexico Truck Driving Championship in Bernalillo
May 11:

ATHS Three Trails Chapter Truck Show at Charles Wheeler Airport in Kansas City, Missouri

May 12:

Mother's Day Truck Convoy for Make-A-Wish in Lancaster, Pennsylvania

May 17-18: Kentucky Truck Driving Championship in Sparta
May 17-18: Ohio Truck Driving Championship in Sandusky
May 17-18: Wisconsin Truck Driving Championship in Appleton
May 18: Delaware Truck Driving Championship in Harrington
May 18: Maine Truck Driving Championship in Hermon
May 18: South Dakota Truck Driving Championship in Sioux Falls
May 18:

ATHS Greater Cincinatti Chapter Truck Show at Howard Trucking in Fairborn, Ohio

May 18:

Lester Brown Memorial Antique Truck Show at North Carolina Transportation Museum in Spencer, North Carolina

May 18:

Sam Maggio Classic Truck Show in Cherry Valley, Illinois

May 19:

Minnesota Metro Chapter Truck Show at Rihn Kenworth in St. Paul, Minnesota

May 19: California Truck Driving Champion, location to be determined
May 30:

ATHS Donner Summit Truck Run & BBQ at Sugar Bowl Ski Resort in Norden, California

May 31: Alabama Truck Driving Championship in Pelham
May 31: Alaska Truck Driving Championship in Anchorage
May 30 – June 2:

Wheel Jam Truck Show at South Dakota State Fairgrounds in Huron, South Dakota

May 31 – June 1: Missouri Truck Driving Championship in Branson
May 31 – June 1: Nebraska Truck Driving Championship in Grand Island
May 31 – June 1: Utah Truck Driving Championship in Salt Lake City
May 31 – June 1: Texas Truck Driving Championship in Waco
May 31 – June 2:

ATHS National Convention and Truck Show at Grand Sierra Resort in Reno, Nevada