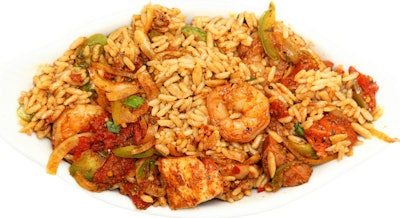 If ever there was a dinner entree ideal for your truck's slow cooker, it's that staple of Louisiana cooking, jambalaya. It takes a lot of good ingredients, cooks for a long time as you drive, and yields a hearty meal. And, you can tailor it to your own tastes.
This particular jambalaya comes from My Recipes, takes about six hours from start to finish and delivers enough for eight servings, meaning you can dine on this for at least a couple of days … or one if you're especially hungry.
It calls for chicken thighs, smoked sausage, and shrimp along with the Holy Trinity of New Orleans cooking: chopped celery, onions, and green peppers. Add, chicken broth (low sodium style), Cajun spice mix, tomatoes, garlic, and long-grain rice and you'll think you've died and gone to the French Quarter.
It cooks for five hours on low, including the last 30 minutes when you add the shrimp and rice.
Get the recipe and other prep details here.
And, here's a little music to cook by …