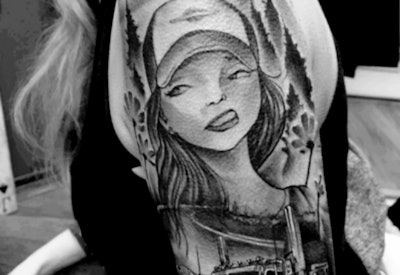 One is a tribute to a trucker's late husband.
Another is about how trucking saved the driver's life.
Yet another, of all things, reimagines Alice in Wonderland as a woman trucker (see at right).
All are among the first batch of trucker tattoos submitted in Truckers News' Show Us Your Ink feature.
"I had a very rough life growing up and when I became a truck driver back in '05 I had this tattoo done and it says 'Trucking saved me,'" said Helen Jones, a company driver explaining her tat.
You can see all of the trucker tattoos that have been submitted thus far, and you can Show Us Your (own) Ink as well.