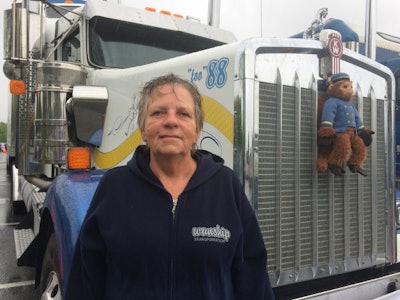 It may have rained — hard at times — all day during the 30th annual Mother's Day Convoy in Lancaster, Pennsylvania last weekend, but at least there was no tornado. Had there been, Michelle Scolari's 2019 Kenworth W900 decked out in a Wizard of Oz theme would have been the truck of the day.
Scolari, a company driver from Utah, drove in the convoy for the first time as part of a contingent of drivers from the REAL Women in Trucking organization. She was the recipient of one of RIT's recent Queens of the Road Awards.
A company driver for Wanship Enterprises in Salt Lake City, Scolari runs reefer from Salt Lake City to Los Angeles in the truck her boss designed specifically for her. Named "Dorothy" the truck has a yellow brick road running around part of the cab, drawings of all of the characters from the iconic 1939 movie The Wizard of Oz, and even a stuffed flying monkey on the grille.
Scolari left a job as a truck stop waitress to begin driving 41 years ago. She was 20 years old and since that time has driven between 4.5 and 5 million miles. She also raised her two children on her trucks for the first five years she drove. Scolari said the lure of the open road was attractive, as was the prospect of more money.
"They said I could see the country and get paid to do it, and I just laughed," said Scolari. "Then I said why not. Why not get paid to see other places. I grew up in the country and going to Salt Lake, a 35-mile trip, made us plan weeks in advance. It wasn't a spur of the moment, jump in the car and go. We planned it. Now it's just nice to go."
And, it's not just about the going.
Scolari values her job because she feels trusted to do it, do it well and without constant supervision. "It's the freedom that somebody who works in an office will never experience. They tell you what to do and you go do it, but there is no one breathing down your neck. Nobody is checking up on you every 10 minutes."
But there's more.
"I love it," said Scolari. "I've worked in the office and that's OK, but there's something about being on the road. It gets in your blood. You can't turn it off."
She recounted that early in her driving career she, like other women, encountered some resistance from male drivers. But, she persisted.
"There were a lot of challenges when I started," recalled Scolari. "Men didn't want women in trucking back then, but, I was like, 'I have a family to feed just like you have a family to feed.'"
Looking ahead, Scolari said she plans for the future.
"My house will be paid off in five years and then I can quite," said Scolari. "Or maybe I just won't quite quit. Maybe I'll just go a little less."