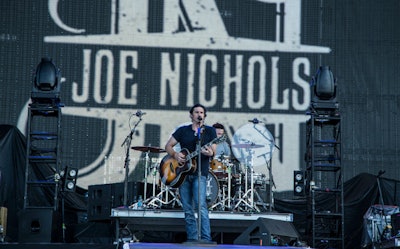 Trucking's leading driver charity is joining forces with a country music superstar to help drivers in need.
The nonprofit St. Christopher Truckers Relief Fund is teaming up with CMA and ACM award-winning, three-time Grammy-nominated country music artist Joe Nichols to help raise awareness for the organization's mission to help promote health and wellness for the 3.5 million truck drivers in the U.S., and provide financial support and guidance to drivers who are unable to work due to health issues or injuries.
Nichols' father, Michael, was an over-the-road truck driver for 13 years when he was diagnosed with idiopathic cardiac pulmonary fibrosis in 1999, an incurable lung condition doctors at the time attributed to his exposure to diesel fumes during his career as a trucker. Michael died in 2002 at the age of 46 from complications due to his illness.
"Truck drivers are some of the hardest working men and women in this country and they deserve our support," said Nichols. "I look forward to doing anything and everything I can to help St. Christopher and their cause."
"We are so excited to be working with Joe especially given his personal connection to our mission," stated SCF Executive Director Dr. Donna Kennedy. "We hope that by working with Joe and his team we can help raise the visibility of our organization's mission in order to bring more help and support to the men and women who keep our country and our economy moving every day."
Donations to SCF help provide financial assistance to ill or injured semi-truck drivers. Assistance may be in the form of direct payment to providers for household living expenses such as rent/mortgage, utilities, vehicle payments, and insurance. SCF also provides health and wellness programs for drivers in hopes to prevent some medical illnesses. Some of these programs include health challenges, smoking cessation, and free flu, shingles and pneumonia vaccines.
Truckers needing assistance from SCF may apply by clicking here. To donate to SCF's mission to support truckers and their families in financial need, click here.
xx