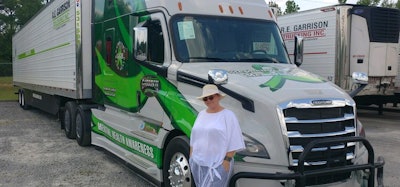 Nearly one in five U.S. adults live with a mental illness. In 2017, an estimated 46.6 million U.S. adults 18 or older faced mental illness, or about 18.9 percent of all U.S. adults, according to the National Institute of Mental Health.
Company truck driver Lori Fulsom, from Cullman, Alabama, is one of those people. Fulsom has lived with mental illness her entire life, including depression, anxiety, post-traumatic stress disorder, and obsessive-compulsive disorder.
When she landed at R.E. Garrison, who she presently drives for, she'd been bouncing around from trucking job to trucking job because she didn't want to let people get close to her. Fulsom has been driving for about 22 years.
"When I came to work here, I'd never been able to stay anywhere long enough to let people get to know me," Fulsom said.
She's now been with R.E. Garrison for seven years total, but she took a step back from the fleet when Stephen Griffith, father of R.E. Garrison owner Wyles Griffith and father-in-law of owner Donovan Lovell, was killed in 2017 by a man who police said was mentally unstable.
"After all of that, I had to walk away from Garrison for a little while," Fulsom said.
When the fleet called and asked her to come back, she asked if they could create a mental health awareness truck wrap.
"I went to them and asked them about doing a wrapped truck that reflected mental health issues not just in the industry, but in the world today. All of our health, in general, I've always felt starts in the mind," Fulsom said. "If your mind isn't whole and it's not healthy, nothing about you is going to be, but that's a personal feeling."
R.E. Garrison signed on to the idea. The custom truck wrap was a collaborative effort between the Stephen K. Griffith Memorial Fund and Garrison Gives Hope, which designed it. Fulsom just completed her first West Coast run in the truck, which she picked up two weeks ago. The 2020 Freightliner Cascadia Evolution's custom wrap features emblems for both the memorial fund and Garrison Gives Hope, with "Mental Health Awareness" along the sides in large, proud letters.
The truck has helped Fulsom feel empowered to share her story and to use her own voice to raise awareness for mental health topics.
"I finally feel like I have a voice. Dealing with the mental illness issues that I deal with – depression, anxiety, PTSD and OCD – it's just so much. Trying to get anyone to understand or listen is almost impossible," Fulsom said. "To sit in her and ride down the road, I can finally stand tall and hold my head up high and say I'm okay not to be okay all the time. It has been absolutely the most wonderful feeling."
There are hotlines available to help truckers in crisis:
If you or someone you know is in crisis, whether they are considering suicide or not, you can speak toll-free with a trained crisis counselor 24/7 by calling the National Suicide Prevention Lifeline at 800-273-8255.
The Crisis Text Line can be reached by texting NAMI to 741-741 for 24/7 crisis support via text message.
The National Domestic Violence Hotline can be reached 24/7 at 800-799-7233.
The National Sexual Assault Hotline can be reached at 800-656-4673.
For truckers looking for support from their peers in the industry, Fulsom recommends the Truckers For Truckers Facebook support group.