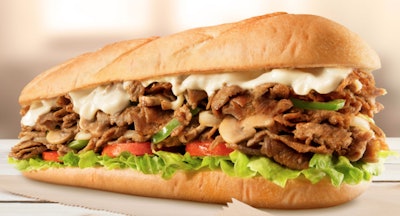 Stop for a meal in Nashville and you'll have a new choice of where to eat.
TravelCenters of America LLC has opened a Charleys Philly Steaks & Wings restaurant at the TA travel center located off Interstate 24 South, Exit 48 (111 N. First St.).
The restaurant dining room can seat 66 people and is open daily from 7 a.m. to 10 p.m. The Nashville Charleys is the first in Tennessee and fourth overall operated by TravelCenters.
The Columbus, Ohio-based Charleys Philly Steaks serves Philly cheesesteak sandwiches, French fries with a variety of toppings and what it calls Real Fruit Lemonades. The menu recently expanded to include classic and boneless chicken wings, available in 10 flavors ranging from Angry Ghost and Nashville Hot to milder options like Zesty Lemon-Lime Rub and Sweet Teriyaki.
A breakfast menu is available as well. Breakfast, along with regular menu items, can be ordered all day.