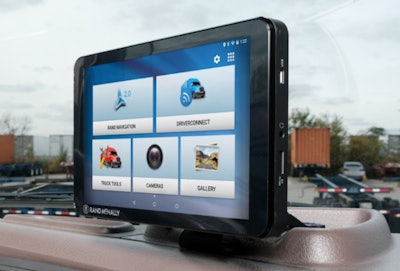 Rand McNally recently rolled out a new combination tablet/GPS device powered by new navigation software and built for professional drivers.
The TND Tablet 85 mounts on the dashboard and includes:
all-new Rand Navigation 2.0 software
directional dashcam
numerous connected services professional drivers require
ELD connectivity
all the benefits of a premium Android tablet
The TND Tablet 85 is available online from Rand McNally for $499.99.
"Our team worked exceptionally hard to create the all-new Rand Navigation 2.0 software and I couldn't be more pleased with how it turned out," said Stephen Fletcher, CEO of Rand McNally, in a statement from the company. "The new software greatly improves usability, truck routing, traffic avoidance, and access to advanced features like weather overlays. Combining Rand Navigation 2.0 with our new TND Tablet 85 provides professional drivers with the very best navigation experience Rand McNally has ever offered."
The new navigation software provides drivers with more comprehensive routes with 3-D renderings of nearby buildings and landmarks, more prominent exits and highways, highly-detailed weather overlays, and crowd-sourced reviews of points of interest. In addition, drivers can still access the many helpful truck tools like toll costs, traffic updates, weather conditions, and service alerts.
The TND Tablet 85 uses what the company calls an "exceptionally strong magnet" to mount the device to the truck's dash. All that is needed is a twist to free it from the mount.
And, when freed from its work duties on your truck's dash, you can settle into your sleeper berth with it, check email, update Facebook and stream something relaxing on Nextflix.