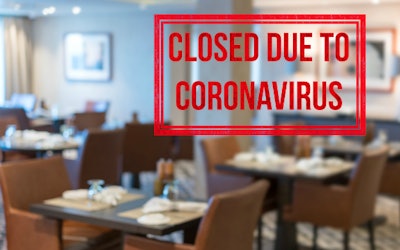 One of the frustrations that surfaced last week as members of the American trucking industry continued to adjust to life on the road in the time of the COVID-19 coronavirus outbreak was something normally quite simple: getting something to eat.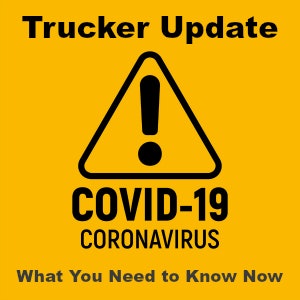 Truck stop dining rooms were closed and most every meal became takeout. But, sometimes even that was not as easy as it sounds. Many truckers complained they were turned away if they simply parked their trucks and tried to walk through the drive-thru. That came to the attention to several police departments that began offering to drive hungry truckers to the drive-through windows.
Then, late last week, the largest of the fast-food chains made a change just for serving truckers.
On March 23, McDonald's announced a new process for serving drivers.
For stores that are take-out only, McDonald's is asking truckers to use their smartphones to get their meals. McDonald's told truckers to:
use their mobile order & pay app, when they arrive at the restaurant
select curbside service and walk to the designated trucker curbside sign on the sidewalk outside our designated door
complete your order by entering the appropriate trucker curbside number and we'll bring your order to you at the designated door as soon as it's ready
Download the app for Android at the Google Play Store.
Download the app for iOS at the Apple App Store.
Trucker comments sought for COVID-19 survey
A new study being conducted by the American Transportation Research Institute is aimed at understanding the impacts the COVID-19 coronavirus pandemic is having on trucking operations.
The research, being conducted jointly with the Owner-Operator Independent Drivers Association Foundation, focuses heavily on a survey that asks for input from truck drivers and fleets who are encountering COVID-19 impacts, such as limited shipper access, changing distribution patterns and traffic-related issues.
Anyone involved in trucking operations is encouraged to respond here.
"This survey will help us confirm what we know anecdotally," says Tom Weakley, director of the OOIDA Foundation, "that the trucking industry is leading the charge in responding to food and medicine shortages among other critical supplies. We need everyone's input on this effort."
May 5-7 International Roadcheck postponed
International Roadcheck, the major inspection, and enforcement effort of the Commercial Vehicle Safety Alliance scheduled for May 5-7 has been postponed because of the COVID-19 coronavirus outbreak.
The safety organization today, March 25, said "with public health and safety as its top concern, CVSA has decided to postpone International Roadcheck to later in the year. The alliance will monitor the status of the coronavirus (COVID-19) pandemic and appropriately select the new dates when it's safe and reasonable to do so."
"As we urgently respond to this time-sensitive crisis, we must remain diligent and committed to ensuring that the commercial motor vehicles and drivers providing essential goods and services to our communities are following motor carrier safety regulations," said CVSA President Sgt. John Samis with the Delaware State Police. "Safety doesn't take a break. It is always our top priority."
"International Roadcheck has run on-schedule for the past 32 years so its postponement was thoroughly and thoughtfully discussed before we made this decision, but it wasn't a difficult decision to make," said Samis. "This experience is unprecedented in our modern society and we need to do all that we can to help stop the spread of this global pandemic."
At this time, International Roadcheck is the only public enforcement initiative that has been postponed. Operation Safe Driver Week is still scheduled for July 12-18 and Brake Safety Week is still set for Aug. 23-29.
CVSA said it will closely monitor the COVID-19 coronavirus outbreak, follow guidance from public health expert leadership, and notify the membership and industry stakeholders of the rescheduled Roadcheck dates.
Sapp Brothers suspends paid parking at its 17 truck stops
A major independent truck stop chain has suspended paid parking in response to the COVID-19 coronavirus outbreak.
In a Facebook post, the company said: "Effective immediately: In response to COVID-19, we're suspending paid parking at all our locations for the time being. All truck parking is free for now. We remain open at all locations to serve you. Thank you, drivers!"
Sapp Brothers operates 17 travel centers along Interstate 80 in:
Cheyenne, Wyoming
Clearfield, Pennsylvania
Columbus, Nebraska
Council Bluffs, Iowa
Denver
Fremont, Nebraska
Peru, Illinois
Junction City, Kansas
Lincoln, Nebraska
Percival, Iowa
Odessa, Nebraska
Ogallala, Nebraska
Omaha
Salt Lake City
Sidney, Nebraska
York, Nebraska
Harrisonville, Missouri
Sapp Brothers have also made changes at its travel centers because of the COVID-19 coronavirus. They include:
Reviewed proper hand washing and sanitizing procedures with all employees
Increased the frequency of hand washing and hand sanitizing by all employees
Use colored disposable gloves when handling money
Use clear gloves when handling or preparing food, preparing coffee/cappuccinos, cleaning any food contact surface, sanitizes the food case at the fuel desk and washing the tongs every hour
Each time a duty is changed, employees are instructed to change their gloves
Self-serve donuts are no longer available
Discontinuing the use of refillable mugs and cups at our beverage stations. No outside mugs or cups can be used. We ask all customers to get a new cup for fountain or coffee beverages.
Increased the frequency of cleaning any customer touchpoints (counters, doors/handles, fuel pumps, nozzles, credit card terminals, ATM, rails, tables, chairs, kiosks, etc.)
Sanitize customer touchpoints with bleach solution at least every hour
Deep cleaning of showers after every use to include sanitizing with a bleach solution and solution allowed to air dry prior to next use
Cleaning the bathrooms minimally every hour to include sanitizing with a bleach solution after cleaning
Implementing additional hand sanitizing stations
They add: "Our restaurants will remain open as long as the government allows. We are looking to the CDC, FDA and local officials for guidance while navigating these evolving circumstances. We will follow all government-mandated occupancy rules. Many states have already limited restaurants to take-out only, which we must abide by. Food options will still be available at our locations. The health and safety of our guests and our teammates has always been part of our culture. We've taken extra precautions to ensure that now more than ever."