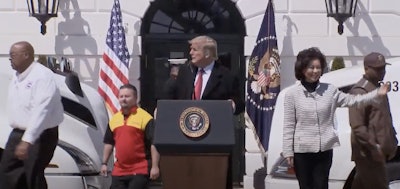 President Donald Trump today praised "our brave, bold and incredible truckers" for continuing to do their jobs during the COVID-19 coronavirus outbreak.
During a ceremony last week on the White House South Lawn, Trump said, "At a time of widespread shutdowns, truck drivers formed the lifeblood of our economy. For days and sometimes weeks at a time truck drivers leave their homes and deliver supplies that American families need and count on during this national crisis and all other times. They're always there."
Trump said he was speaking for all Americans when he said, "Thank God for truckers."He added, "In the war against the virus, American truckers are the foot soldiers who are really carrying us to victory. They've done an incredible job."
Secretary of Transportation Elaine Chao and American Trucking Association CEO Chris Spear also spoke at the event.
Among the truckers who participated in the event was Big G Express' Steve Richardson, who was the Truckload Carriers Association and Truckers News 2018 Company Driver of the Year.