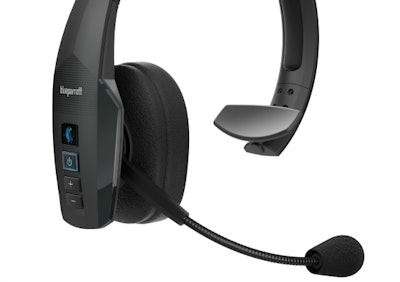 BlueParrott today introduces the next generation B450-XT noise-cancelling Bluetooth headset, the Lowell, Massachusetts company says is engineered for superior calls in high-noise environments. Now with enhanced comfort, durability and more flexible charging and firmware update options, the upgraded headset is designed to keep pace with the demands of truckers' lives on the road.
The B450-XT is one of its BlueParrott's most popular headsets and this update addresses two features important to truckers: comfort and durability. A statement from the company says the new B450-XT headset features a padded headband and large, cushioned earcups for all-day use. The company says the headset is even more durable with an IP54-rating to protect against dust and moisture for the toughest environments. It also now comes with USB-C charging to streamline charging across devices.
The new headset also enables easy firmware updates on the go using the BlueParrott App and features Bluetooth 5.0 for better connectivity across devices.
The updated B450-XT also features all of BlueParrott's standard features, including noise cancelation that blocks out 96 percent of background noise. It also has up to 24 hours of talk time.
With BlueParrott's VoiceControl, users can answer or reject calls with just their voice, for the hands-free use professional drivers require. Users can also customize the headset using the exclusive Parrott Button for one-touch access to favorite features and applications.
The new BlueParrott B450-XT is available for pre-order Friday, May 1 for $169.99 US and $229.99 Canadian at https://www.blueparrott.com/.
It will be available for purchase from Amazon, Best Buy and North American travel centers beginning June 1.