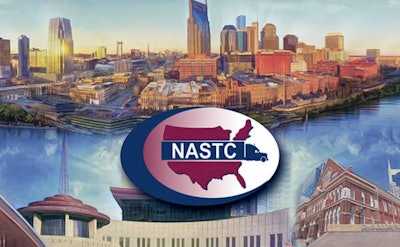 Question: Who has 594 years of truck driving experience and has driven more than 53,345,000 miles?
Answer: The 19 professional drivers nominated to the National Association of Small Trucking Companies list of America's Best Drivers.
They will be honored and one named Driver of the Year when the NASTC convenes for its annual conference Nov. 19 to 21 at the Omni Hotel in Nashville.
The list includes:
Brent Miller, Brent Miller Trucking
Deb LaBree, Castle Transport
Ron Hershberger, Cowen Truck Line
Dannel Weaver, D. Weaver Trucking
Daniel Herman, Gold Standard Transportation
Charlie Hood, Kisatchie Midnight Express
Ryan Marstiller, MOD Trucking
Jesse Wilbanks, Palindrome Express
James Tomey, Paul Watts Trucking
Doug Summers, Philip Sims Trucking
Donald Pinner, Pinners Trucking
Richard D. Simmons, Rogers Transport
Richard Seyfang, Seyfang Associates Corporation
Richard Rockwell, Spitale Co.
Vincent Strupp, Spoerl Trucking
Jim Tomlinson, Store and Haul
Ernest Fountain IV, Triple D Express, Inc.
Cornelius Greene, Waletich Corporation
Timothy Prow, Xtreme Trucking