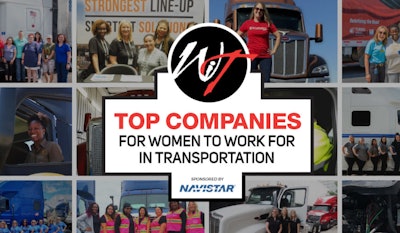 WIT
The deadline is nearing for nominations of transportation companies that are good places for women to work.
Companies have until May 12 to enter Women In Trucking's recognition program for Top Companies For Women To Work For In Transportation.
The association's magazine Redefining The Road created the award in 2018 to support an element of WIT's mission: to promote the accomplishments of companies that are focused on the employment of women in the trucking industry.
The award program is sponsored by Navistar.
RELATED NEWS: WIT announces list of top transportation companies for women
To enter, companies that are corporate members of WIT must:
Explain in 75 words or less what makes their company worthy of being recognized as a great place for women to work and identify attributes that make your company appealing to women
Participate in WIT Index. Nominees must identify the percentage of women in any of these roles that are applicable: Your C-suite, company leaders, board of directors, HR/Talent Management, professional drivers, dispatchers, safety, and technicians.
Top companies are chosen by online voting in early June.
Winners will be announced at WIT's Accelerate! Conference and Expo in the fall.
There is a $595 entry fee for the award program.