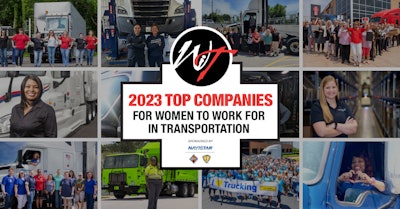 Women In Trucking
Redefining the Road magazine, the official magazine of the Women In Trucking Association, announced today the recipients of the 2023 "Top Companies for Women to Work For in Transportation" designation.
According to Jennifer Hedrick, president and CEO of WIT, the magazine created the award in 2018 to support an element of WIT's mission: to promote the accomplishments of companies that are focused on the employment of women in the trucking industry.
There are a number of characteristics that distinguish the companies recognized on this list, according to Brian Everett, publisher of Redefining the Road. These characteristics include corporate cultures that foster gender diversity; competitive compensation and benefits; flexible hours and work requirements; professional development opportunities; and career advancement opportunities. Qualified companies also must meet minimum requirements of what they report through the WIT Index, the industry barometer that benchmarks and measures each year the percentage of women who make up critical roles in transportation.
Companies on the list will be recognized at the upcoming WIT Accelerate! Conference & Expo Nov. 5-8 in Dallas. Navistar is the sponsor of this year's program.
Companies named to the 2023 "Top Companies for Women to Work For in Transportation" list are:
ADM Trucking
AFS Logistics
America's Service Line
Ancora Education
ArcBest
Armstrong Transport Group
Arrive Logistics
Artur Express
Autumn Transport
Averitt
Bennett Family of Companies
Big M Transportation
Bob's Discount Furniture
Boyle Transportation
Bridgestone Americas
Cardinal Logistics Management Corp.
Cargomatic
CarMax
Carter Express
Centerline Drivers
Clean Harbors
Covenant Logistics
Crowley
Cummins
Daimler Truck North America
Day & Ross
Dot Transportation
Dynacraft, a PACCAR Company
EASE Logistics
Echo Global Logistics
Epes Transport System
Estes Express Lines
Evans Network of Companies
Forward Air
Frito-Lay
Garner Trucking
GFL Environmental
Giltner Logistics
GLT Logistics
Grammer Logistics
Great Dane
Halvor Lines
Highway Transport
Hubtek
ISAAC Instruments
J.J. Keller & Associates
J.B. Hunt Transport
JX Enterprises
Kenworth Truck Co.
Kirsch Transportation Services
Knichel Logistics
Koch Companies
Landstar System
Leonard's Express
LGT Transport
Marathon Petroleum Co.
Matheson
May Trucking Co.
Mercer Transportation Co.
Navistar
New West Truck Centres
Odyssey Logistics
Old Dominion Freight Line
ORBCOMM
Orica
Ovie Logistics Express
PACCAR
PACCAR Leasing Co.
PACCAR Parts
Palmer Trucks
Penske Transportation Solutions
Peterbilt Motors Co.
PGT Trucking
Pilot Company
Procede Software
Proficient Auto Transport
Quality Carriers
ReedTMS Logistics
Rihm Family Companies
Roehl Transport
RXO
Ryder System
S-2international
Saia LTL Freight
Savage
Schneider
Southwest International Trucks
Standard Logistics
Stericycle
Sunset Transportation
Sworkz
SWTO
The Erb Group of Companies
TRAC Intermodal
TRAFFIX
Transflo
TransForce
TransLand
Tri-National
Trimac Transportation
Trinity Logistics
Tucker Freight Lines
UPS
USAL
Valoroo
Venture Logistics
Volvo Group North America
Werner Enterprises
Wilson Logistics
WMXPO
Zonar