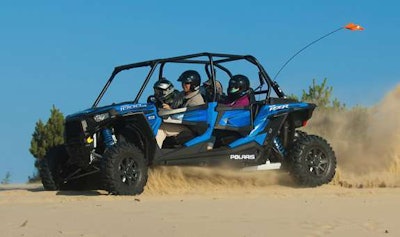 With a top speed of nearly 80 mph, seating for four, electric power steering, a full roll cage and the suspension travel of an off-road race vehicle, the 110hp 2015 Polaris RZR XP4 1000 is the kind of ATV that leaves the worries and stresses of the work week in a trail of dust.
If you are of hard working blue-collar type that loves to spend their weekends and free time with the family riding quads, the new "razor" is going to be tough to beat in the thrill category.
I've been testing a Voodoo Blue XP4 for the past few weekends on the miles of open sand dunes in the Oregon Dunes National Recreation Area (ODNRA) just south of Florence, Oregon.
Such wide-open spaces are the perfect playground for a RZR.
The 999cc, 110hp four-stroke and CVT transmission, with high- and low-range, delivers a boat load of pulling power whether driving alone or with three companions. And the shift-on-the-fly four-wheel-drive system provides that extra level of traction and control in softer conditions.
Then there's the long wheelbase, it's 146-inches long, that makes one feel like they are driving a pickup instead of an ATV.
But it's the suspension under the XP4 that sets it apart from anything else I've driven short of an off-road race truck or sand rail.
This four-seater has 13 inches of ground clearance supplemented by two-inch diameter Walker Evans Needle Shocks on all four corners with 16 inches of travel in front and 18 inches in the rear.
This combo takes the hard knocks out dips, bumps and jumps, letting the 1,600-pound machine glide over terrain while other ATVs struggle to keep up.
Electric power steering and four-wheel-disc brakes add to the XP 4 driving experience.
Hammer down and hold on – its top speed is 77mph according to Polaris. I've seen 60-plus thus far and have no doubts it has the power to hit the upper 70s.
With an MSRP of $22,299, it's a bargain when you consider that building a Jeep, sand rail, or truck with the same kind of suspension and power-to-weight ratio would cost tens of thousands more — and still not be nearly as fun.
So if you want a fun toy to wind down on, or are planning a vacation to the desert, dunes, or anywhere else where there's a lot of room to play, take along a Polaris RZR XP 4. You'll be the most popular person around.
(Photos by Larry Walton/Editorial Services West)