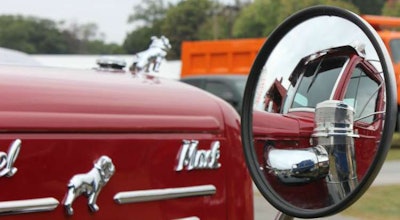 About 300 vehicles were displayed during the Hudson Mohawk Chapter of the Antique Truck Historical Society (ATHS) 25th annual last weekend, Sept. 20 and 21.
The show at the Saratoga County Fairgrounds near Albany attracted every sort of truck from a 1990 International converted into a vacation home to a Bantam truck and most things in between.
There were, of course, several standouts.
1925 Mack Chain Drive
Greg Pepe's antique Mack dump truck was clearly one of the stars of the weekend. He ticked off the truck's particulars to numerous groups of people who gathered around the chain-driven truck:
4 cylinder engine
472 cubic inches
74 hp
1500 foot lbs. of torque
"Dog Leg" hand crank, which was standard, and optional electric start
Original engine
Original four speed transmission
Original clutch
Original brakes
Not bad for a truck that spent most of its useful years hauling salt for the City of Chicago DPW. Also at the show were several chain-driver Sterlings.
1990 International Cabover Conversion
Arnie and Darla White brought what is essentially their second home to the ATHS show last weekend.
Their entry was "Labor of Love" a 1990 International 9670 cabover converted into an RV that is 34' long and 13' 4" tall and powered by a 350 Cummins Big Cam 4 engine.
A driver turned warehouse foreman, Arnie said he saw the truck parked next to a pickup he went to look at with the idea of building a street rod. He was smitten with the big truck and bought it on the spot for $6,500 instead of the pickup.
He and his wife have made numerous upgrades and today they travel to truck shows and NASCAR event in style:
King-sized sleeping loft
Galley kitchen with custom cabinets
Full bath with shower
Flat screen TV
Surround sound
250 gallons of fresh water on board
"It weighs 30,000 pounds fully loaded," said Arnie. "It rides down the road smooth as a kitten."
1926 Linn
Getting a lot of looks at the show was a Linn Model 60 tractor/truck. These rugged half-track-like vehicles had crawler-style tracks in the rear. They were built starting in 1918 in Morris, NY about 100 miles southeast of where the show was held. They ended production in 1952. Ernst Portner of Rome, NY exhibited the Linn.
Fleet of Yellow Macks
Easily the most eye-catching display at the show was a line of six immaculately restored and turned out Macks owned by Skip McKean Petroleum Transport of Henniker, NH. Each was painted a soft yellow with white cab roof and red lettering.
The Bulldogs on display included:
1942 Model ED
1946 Model EH
1950 Model A-46
1951 LF
1956 B85
1985 Superliner put to a tank trailer.
Jeff Wojtowicz, president of the chapter with 150 members from eastern New York and nearby New England states, said the show welcomes all sorts of vehicles. Aside from trucks, the show included antique and classic cars, tractors and vintage construction equipment.