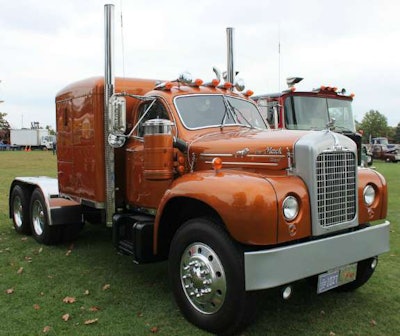 As a kid, Brian Hanson rode in his uncles's truck during summers as he hauled steel.
"The dog bit me early," says Hanson who was at the recent Mack Day event at Gerhart Machinery in Litiz, Pa.
And, it appears it was a bulldog.
"I've always driven Macks," he said. And, he has restored a few too.
The 1965 B61 he had on the field at Gerhart's got an extensive makeover by Hanson, who said he paid for it a bit at a time.
As an equipment operator for the Commonwealth of Pennsylvania, he saved his overtime pay from plowing snow to pay for work on this truck that used to ply oil fields near Punxsutawney (yes, the one with the groundhog), Pa.
Hanson said he did most of the work himself, including adding the bunk off a Kenworth.
His neighbor did the paint job, but Hanson said his wife chose the color to paint the Mack: Plymouth Prowler brown. "She's the one with taste," he jokes.
This hard-working bulldog has a 673 turbo with 205 hp. It has a triplex transmission with two sticks. Hanson added twin stacks, power steering and high-back air-ride seats.
Hanson said he pulls a 45′ drop deck with his prized bulldog.