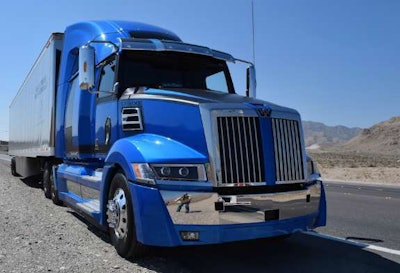 For Western Star general manager Michael Jackson, the challenge is straight-forward: Preserve and enhance the niche truck-maker's products in such a way that allows you to leverage the full bounty of Daimler Trucks' impressive technological portfolio while retaining the brand persona of being something of an outsider.
It's a tall order, but if the new Western Star 5700XE on-highway tractor is any indication, it's a charge Jackson and his colleagues have taken to heart. The truck takes a solid departure away from the long-nosed slab-faced Western Stars of yesteryear.
The day after the 5700XE's press launch, the Western Star folks happily tossed me the keys to a Sapphire Blue model and told me to enjoy myself. That wasn't hard to do in a truck that looks this striking.
Western Star's chief design engineer, Don Vena, told me over lunch the day before that he draws particular inspiration from '60s-era American muscle cars. So he was pleased when I said the 5700XE reminded me of Oldsmobile's tough front ends from the early '70s.
At highway speeds, I was surprised to find the 5700XE to be one of the quietest tractors I've ever driven. A lot of credit for this has to go to the integrated Detroit drivetrain. Another factor is the proprietary all-steel cab, which Western Star has used elsewhere. Heritage also comes into play, given that Western Star cabs have been built to extremely tight tolerances to help survive grueling West Coast logging operations. So even in less-severe operations, it's a major factor in holding down in-cab ambient noise.
For the first time, Western Star is offering only Detroit engines for its truck. An Eaton manual gearbox is an option, but all other drivetrain packages are spec'd with Detroit's DT12 automated manual transmission.
My blue test truck featured a 400-horsepower DD15 coupled with a slick DT12 AMT. Even fully loaded, the engine provided plenty of low-end grunt to get the 5700XE up and moving. I'd driven an Eaton-equipped 5700XE the day before, and I was pleased to find it to be the smoothest-shifting I'd driven in a long time. But it's hard to argue with the simplicity and ease of use offered by an AMT while you're working your way through Las Vegas' crowded interstates.
On the open road, I found Western Star's newest truck to be a bit of a speed demon. Even on steep grades in the mountains outside Sin City, the truck accelerated quickly with plenty of reserve power remaining. Steering was extremely tight, and the truck was highly nimble when changing lanes. Optional safety features included a host of Meritor Wabco systems, including OnGuard Lane Departure Warning, OnGuard Collision Mitigation and OnGuard Adaptive Cruise Control, as well as electronic stability and roll stability control systems.
The views over the nose of modern trucks are always excellent, thanks to the slope-nosed designs that enhance aerodynamics. With the 5700XE, the hood simply isn't visible at all from the driver's seat. But Western Star didn't stop there: Matte black accents on the hood eliminate all glare to such an extent that I didn't need sunglasses, even though it was a cloudless day in the Nevada desert. The Air Force has employed this anti-glare trick on its aircraft for years. A nice benefit is the black accents evoke the Rally Stripes that adorned sports cars in the 1960s and further feed the truck's overall muscle-car look.
Western Stars are all about small fleets and owner-operators. Nowhere is this more apparent than in the cab and sleeper of the new 5700XE. Plush two-tone leather seats with the logo prominently displayed set the tone. Large well-defined old-style gauges and instrumentation feature colorful, modern lighting accents that make at-a-glance checks a breeze in bright sunlight or in the dark of night. Real wood cabinets, drawers and a retractable work desk give an added layer of luxury to the large sleeper berth that includes a refrigerator, ample storage and space for a flat-screen television. Twin tinted side windows, as well as an overhead skylight, enhance the sleeper's ample lighting.
The mission statement to Western Star's designers was clear, and it's hard to argue with their final product. The 5700XE is an elegant blend of luxury, individualism and character.
Western Star 5700XE specs as tested
Drivetrain: Detroit Integrated
Engine: Detroit DD15
Horsepower: 505 hp
Torque: 1,750 lb-ft
Transmission: Detroit DT12 12-speed automated manual
Front axle: 14,700 lbs Detroit Single
Rear axle: 23,000 lbs Detroit Single
Front suspension: Taperleaf, 14,600 lbs
Rear Suspension: Airliner, 46,000 lbs