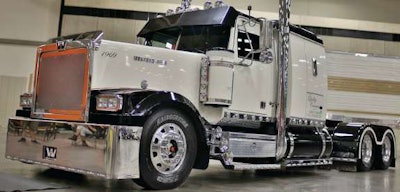 Mitchell and Lori Broderson are fixtures on the show truck circuit.
That is when they are not traveling between Peopria, Ill. and Lima, Ohio for Quality Carriers out of Tampa.
They use their distinctive white and black 2007 Western Star Lowmax for both.
The Harley Davidson-themed working bobtail entry has a DD60 series under the hood and more than 960,000 miles on the odometer.
While the truck's shifter topped with a chrome Harley is an eye-catcher, the truck back-up warning is truly unique: it's the bell off a railroad crossing signal, and is as distinctive as it is loud.