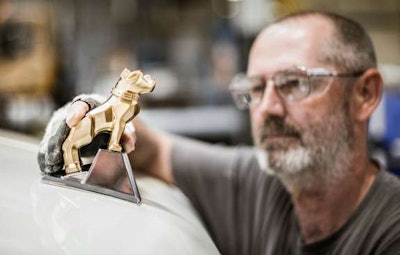 The first highway truck assembled at Mack Trucks' Lehigh Valley Operations manufacturing facility located in Lower Macungie Township, Pennsylvania, rolled off the production line 40 years ago.
A Mack F711ST model was completed Nov. 19, 1975, and today all Mack trucks built for North America and export are assembled at the facility.
"Over the past 40 years, we have proudly assembled thousands of Mack models for customers around the world," said Stephen Roy, president of Mack Trucks North America. "Each employee's precision and dedication also has helped solidify Mack's reputation for building some of the toughest, highest-quality and most durable trucks on the road."
In conjunction with the anniversary, Mack said it would be changing the name of the facility from Macungie Cab & Vehicle Assembly to Mack Lehigh Valley Operations.
"This new name identifies our heritage, but also more accurately captures our operational footprint and the contributions of our employees who live throughout the region," said Wade Watson, vice president and general manager of Mack Lehigh Valley Operations. "Although we are celebrating four decades of success at our plant, we have been revitalizing the facility with innovative systems and tools that already give our operation a very modern feel, and we are not yet complete with our updates."
Site preparation for the one million square-foot facility began in May 1974. Construction began shortly thereafter, and the facility was completed in less than one year.
Recent investments in the plant have further streamlined the production process, with revised sub-assembly and material handling processes to improve production efficiency. The site has also invested in new equipment to improve post-production testing and inspection processes to ensure the highest quality standards are met.