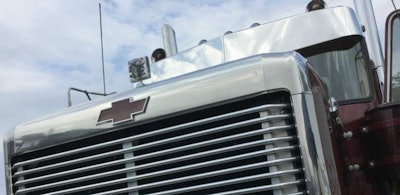 There was a time when Bison roamed this fair land, mostly on its farms and in its forests.
And, they wore bowties proudly.
The Bison in question were the Class 8 trucks produced in the 1970s and '80s while Chevrolet was still in the truck business. They were Chevy's answer to the more well known GMC General of the same era, with many Bison winding up being used in agriculture and logging.
Randy Kaylor had a 1978 Bison at the Mother's Day Convoy in Lancaster, Pennsylvania last month. His company, Pro-Fab Associates of Manheim, Pennsylvania restored the Bison, which he said spent almost all of its working life spreading lime on farm fields.
"The lime was actually so thick in the doors and the back of the cab that we had to chisel it out," said Kaylor, who also organizes the Keystone Diesel Truck Nationals at the Maple Grove Speedway. "It had hardened over the years.
"Now it just lives its life as a show truck."
Kaylor and his team at Pro-Fab gave this Bison a show truck life for its owner, Stirling Shelly of Fawn Grove, Pennsylvania.
"When he first called I said, 'Are you sure it's not a General?' He said, 'No, no it's a Bison.' I said, 'Bring it to my shop because I want to see it.'
"He came to us with a dream, and we put it together for him. I think it's stunning. He spent the money and the time to do it right. There's no spot on this truck that didn't get attention."
It's easy to see that the Bison occupies a special place in Kaylor's heart
"Out of all the trucks we've done, and I've been in business 23 years building custom trucks, this one gets more attention than anything we've done," said Kaylor. "It's gorgeous."
And, it's fun to drive, according to Kaylor.
With a 444 Cummins and a nine-speed transmission, "It's way overpowered and with a short wheelbase, it's sort of like driving a go kart. It will run down the highway …"