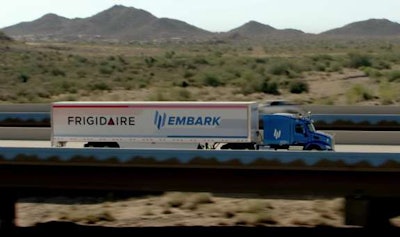 A three-way partnership between a technology company, an appliance manufacturer and a leading trucking company has moved autonomous trucks out of the laboratory and onto the highway.
Working with Ryder and Frigidaire, autonomous retrofitter Embark announced it conducted tests of its semi-autonomous system in four states last month. Ryder tractors equipped with Embark's Level 2 autonomous system operated on highways during trips of about 650 miles, the company says. Drivers operated the rigs on surface streets.
"Operating at a Level 2 system, the tests involved trucks with drivers sitting at the wheel actively monitoring the road, supervising the system and ready to take control at any time," Embark said in a press release. The tests were conducted in Texas, New Mexico, Arizona, and California.
Embark says it hopes to continue the partnership with Frigidaire and Ryder to continue to test its automated system.
This company video talks about the tests.