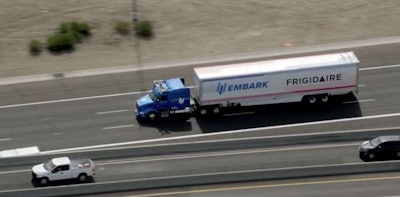 Embark announced Tuesday that its self-driving tractor-trailer has become the first autonomous truck to cross the U.S.
The 2,400-mile journey across I-10 began in Los Angeles last week and finished five days later in Jacksonville, Florida.
Late last year, Embark claimed the longest self-driving truck route in the world following a partnership with Ryder and Electrolux in which it agreed to haul appliances from L.A. to El Paso. This latest trip is four times longer.
A professional driver sat at the wheel of the Peterbilt during the cross-country tripready to assume control if necessary.
"When we announced our Los Angeles to El Paso route we promised that was the just first stage of a much larger expansion," Embark CEO Alex Rodrigues said.
Another Embark goal includes making the cross-country trip across the U.S. in two days instead of five. Current federal regulations restrict most trucks to 11 hours of travel per driver per day.
This time-lapse video shows what and hour of the trip was like.