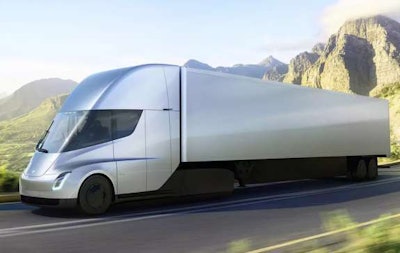 Two major U.S. trucking organizations have said they are placing orders for Telsa's electric Class 8 truck, which was unveiled by company founder and CEO Elon Musk in California Thursday night.
MSNBC is reporting Walmart has ordered 15 of Tesla's Semis, 10 for use in Canada and five for testing in the U.S. The cable news organization is also reporting that J.B. Hunt has reserved "multiple" new trucks, which Musk said will go into production in 2019.
Reuters is reporting that the Canadian grocery store chain Loblaws Co. plans on purchasing 25 Semis.
The company is accepting reservations for Tesla Semis for $5,000 per.
During a glitzy introduction at Tesla's Hawthorne, California facility, Musk said the Semi would have a range of up to 500 miles at maximum weight and highway speed. He also said it will do 0 to 60 in five seconds without a trailer and 0 to 60 in 20 seconds fully loaded with 80,000 lbs.
Musk also claims the Semi will not breakdown for one million miles, and that jackknifing is impossible in the truck.