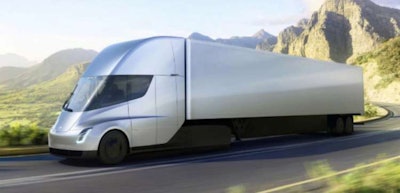 America's largest brewer and one of the country's largest trucking companies are the latest customers to get in line for a new all-electric tractor.
Anheuser-Busch last week placed an order for 40 of the Telsa Semi trucks that were introduced less than a month ago. The 40 semi-trucks, one of Tesla's largest reported pre-orders, will be fully electric-powered and equipped with autonomous driving capabilities.
PepsiCo confirmed today that it has reserved 100 of Tesla's new electric trucks, the largest-known single order for the electric big rig to-date.
On Monday, Schneider announced it has committed to purchase Tesla Semi trucks, but did not say how many or which version. A spokesperson for the company said that while Schneider is not divulging a specific number at this time, they did call it "a meaningful amount."
A 300-mile variant of the Tesla Semi costs $150,000; the 500-mile model, $180,000; and a Founders Series will run $200,000, according to Tesla's website and each requires a $20,000 deposit.
"This new technology resets the bar for sustainability and safety," said Mark Rourke, executive vice president and COO at Wisconsin-based Schneider, in a statement. "We are excited about the potential the electric Semi truck offers for delivering a smaller carbon footprint, dramatically lowering lifecycle operating costs and enhancing the driver experience. The technology will provide a natural extension to our next generation Quest platform."
Anheuser-Busch says integrating the Tesla semi-trucks into the brewer's distribution network will help achieve its commitment to reduce its operational carbon footprint by 30 percent by 2025 – the equivalent of removing nearly 500,000 cars from the road globally each year.
In addition to its partnership with Tesla, Anheuser-Busch is also working with Nikola Motor Company to develop and implement hydrogen-powered engines within its network, and with Otto and Uber Freight to test autonomous driving technology. The world's largest brewer has also partnered with Convoy to access on-demand trucking capacity.
In 2016, an Otto truck carrying 51,744 cans of Budweiser completed an autonomous truckload shipment from Anheuser-Busch's Ft. Collins, Colorado brewery to a distributorship in Colorado Springs, a distance of 132 miles – the first ever commercial beer delivery using autonomous driving technology.