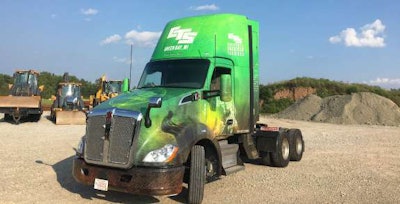 A Wisconsin trucking company thinks hard working men and women deserve some recognition.
That's why Contract Transport Services, which is headquartered in Green Bay, recently wrapped a pair of new semi cabs to honor and recognize two groups of people who work to protect and enhance the lives of the general population. One wrap recognizes farmers and the other pays tribute to first responders.
These two special trucks join seven other tribute trucks already on the road for CTS. Existing trucks honor the five branches of the U.S. military, firefighters and police.
"These men and women work tirelessly to save us, and to sustain us," said CTS President Curt Reitz. "The least we can do is show them how much we appreciate it. What better way to spread the message of thanks than by driving it across the Upper Midwest on a daily basis?
"We're trying to help recognize those that deserve recognition. Farmers, truck drivers, first responders — we all play a vital role in the prosperity and safety of this country."