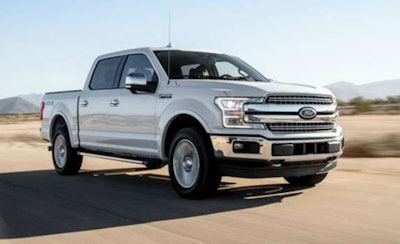 A major national motoring magazine has named the Ford F-150 its 2018 Truck of the Year.
Motor Trend tested trucks at Fiat Chrysler Automobiles' Arizona Proving Grounds, and the judges gave the F-150 the top prize unanimously.
Motor Trend said:
For 2018 Truck of the Year testing, Ford provided four variants to show the breadth of the changes made under the hood. The significant updates made to the F-150 have resulted in the interiors becoming more premium, the infotainment system more intuitive, and the steering more responsive. With these new powertrains, the F-150's lighter, military-grade, aluminum alloy body delivers strong fuel economy for a full-size truck. Ford ultimately proved its superiority compared to competitors by producing an impressive range of midcycle changes, including significant ride and handling improvements.