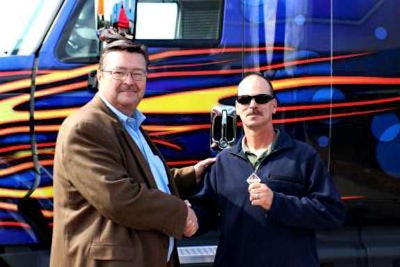 A Texas trucker won a specially equipped truck in the Navistar's OnCommand Connection Sweepstakes that ended recently.
Houston truck driver Jim McCauley won an International ProStar, and received his prize during a ceremony hosted by Navistar and TravelCenters of America at the TA in Baytown, Texas, east of Houston.
McCauley, a driver for Advanced Freight Dynamics LLC, in Conroe, Texas, was randomly selected to win a Diamond Renewed Certified International ProStar Class 8 over-the-road truck equipped with a Navistar N13 engine and with OnCommand Connection Telematics.
"As a working truck driver, Jim McCauley is the perfect person to receive this beautiful vehicle," says Terry Kline, Navistar senior vice president and chief information officer. "In keeping with our DriverFirst philosophy and Uptime mission, we developed OnCommand Connection Telematics to make this valuable data stream easily available and useable for everyone in the entire industry, from owner/operators to large fleets."
The sweepstakes, which was open to qualified truck drivers holding a CDL, recognized the availability of OnCommand Connection Telematics, a combined hardware and software package that provides a steady stream of real-time vehicle performance data to help drivers and fleets become safer, more productive and more profitable.
From Aug. 1 through Sept. 8, the prize vehicle had toured multiple International dealers and 18 TA and Petro Stopping Centers around the country, giving truck drivers a chance to see the specially outfitted vehicle up close and to enter the contest in person.