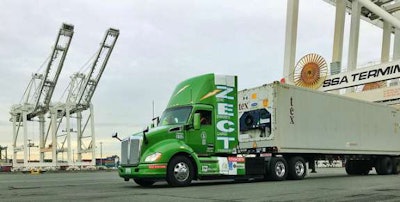 The Consumer Electronics Show is primarily where hot new cell phones, video games, apps and other gadgets are normally unveiled to eager early adopters.
This year's show, going on now in Las Vegas, also has a bit of a feel of a truck show. Several high-tech trucks are being shown off, including, for the first time, a Kenworth T680 day cab. What makes it CES-worthy is that it's powered by a hydrogen fuel cell.
The company explains how it works:
This T680's fuel cell combines compressed hydrogen gas and air to produce electricity; only water vapor exits the tailpipe. This electricity can power the dual-rotor electric motor to move the truck, or it can recharge the lithium-ion batteries for use later. The hybrid drive system manages the power from the fuel cell to and from the batteries, as well as the traction motors and other components, such as the electrified power steering and brake air compressor.
It will have an initial range of 150 miles, which would be good for short haul and port operations
The dual-rotor traction motor puts out 565 hp
It can carry the legal gross combination weight like any other Class 8 vehicle
"Kenworth's hydrogen fuel-cell T680 is a reality," said Stephan Olsen, Kenworth director of product planning. "The T680 has been running trials in the Seattle area and performing very well. The next step is real-world testing with Total Transportation Services Inc. (TTSI) at the ports of Los Angeles and Long Beach in Southern California."
The vehicle is part of the Zero Emission Cargo Transport demonstration project managed through Southern California's South Coast Air Quality Management District.
Also at CES are Toyota, TuSimple and Peterbilt.