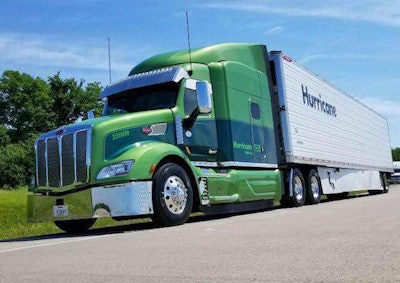 Hurricane Express, a coast-to-coast refrigerated carrier, is sponsoring a truck parade from Oklahoma to California starting June 8. The parade is a celebration of truck drivers and a nod to convoys of the past that would run together as a demonstration of solidarity.
The truck parade will begin at the fleet's West Siloam Springs terminal in Oklahoma and head west to California. Owner-operators and company drivers from different companies are welcome to attend. The fleet estimates that 50-150 drivers will participate.
Hurricane Express will host a cookout with door prizes at the West Siloam Springs terminal June 8 from 3-8 p.m. Trucks will roll out for the west-bound parade after the cookout concludes. Door prizes and trophies will be given for first through third place for: Most Lights, Best Custom Paint, Longest Wheelbase, Biggest Sleeper, Oldest Working Truck, Most Aerodynamic and Least Bumper Clearance. The first 100 drivers to arrive at the terminal June 8 will receive a commemorative shirt.
Hurricane Express will provide meals for truckers participating in the parade at The Big Texan Steak Ranch in Amarillo, Texas on Saturday, and again at Route 66 Casino west of Albuquerque, New Mexico. Drivers who wish to participate in the truck parade can attend the free cookout June 8 or contact Hurricane Express at 877-379-7383. Additional details are also available on the Hurricane Express Facebook page.
"We plan to light up the night with a couple miles of trucks heading westbound on I-40," Hurricane Express President Kaedon Steinert said. "I am very excited to not only be organizing this event but also participating by driving a truck with the group."